Clearer and more transparent lenses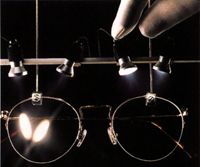 There is a type of lens with a much greater clarity than the simple lenses. This clarity is achieved by the application of an antireflective treatment on both surfaces of the lens. The result is a lens that has almost no reflections.
The use of this type of lenses on your glasses improves your vision in every aspect. Especially at night when there are different light sources from different angles they produce rays of light on the simple lenses (without the treatment) that disturb vision. With these multicoated lenses you have a far better vision.
Another advantage of these lenses is that your glasses appear nicer, without reflections and your eyes do not appear distorted.




Thinner lenses | Clearer Lenses | Lighter
Eyeglasses in General