This is the complete guide for the health of your eyes. Contact lenses, sunglasses and eyeglasses are presented by the experts of vision.
Scientific solution to avoid eyestrain from the computer monitors.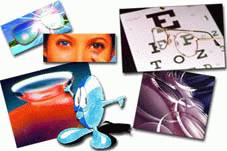 Colored - cosmetic contact lenses to change the color of your eyes with the experience of the experts .
Detailed information about all the refractive errors and other eye diseases such as myopia, hypermetropia, astigmatism , cataract e.t.c. are only some of the issues you can find in this site. News from the eyecare field al over the world. Special section with subjects of scientific interest.
Presentation of new products.