The use of contact lenses do not keep you from using your normal use of cosmetics and make up products. Although there are certain points that deserve your attention.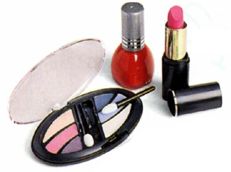 The use of eye cosmetics sould be performed after you have put our contact lenses on.

The removal of your eye cosmetics or make up should be done after you have removed your contact lenses.

You should preffer the non oil cosmetic products.

Do not use waretproof mascara. It could color your contact lenses and damage them. Also the waterproof mascara after a certain perio of time cuts itself into solid little pieces (like sand) the could enter your eyes and irritate them.

Ther is no problem using the eyeliner even in its' liquid form.

Do not touch your contct lenses after you have touched an oily cream with our hands.

Be carefull with the use of fixative hair spray or other spray products, because they can cause irreparable damage to your contact lenses.